Romeo Langford will play college basketball at Indiana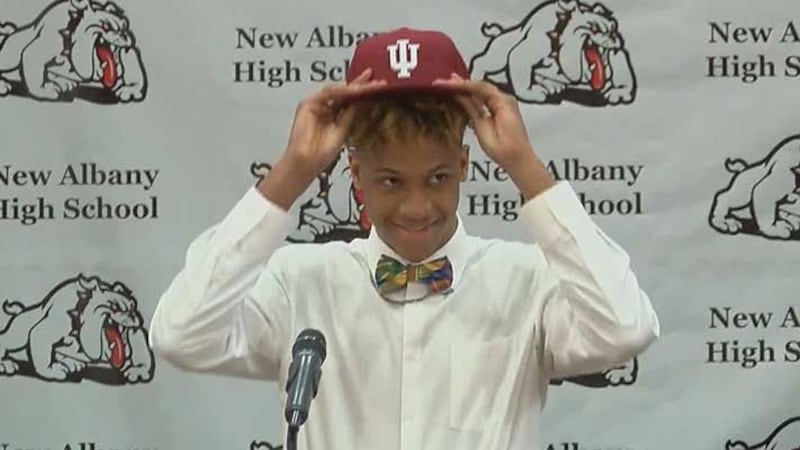 Published: Apr. 29, 2018 at 3:06 PM EDT
|
Updated: May. 1, 2018 at 1:16 AM EDT
NEW ALBANY, IN (WAVE) - After four years of setting records, and thrilling southern Indiana basketball fans, high school superstar Romeo Langford announced Monday night that he'll stay in his home state and play college hoops at Indiana.
Langford's college recruitment was a hot topic for several years, as high-profile NCAA coaches were frequently spotted at his games, and fans of dozens of college teams debated and tried to sway his decision.
The New Albany High School star and freshly-minted Indiana Mr. Basketball was the last to speak at a 30-minute, made-for-media event.
Fans lined up early outside the New Albany High School gym where Langford made his announcement. His selection of IU prompted a loud standing ovation.
"IU needs him," Janine Herrington said. "He's a Hoosier. He needs to be there."
In Jeffersonville, Hoopsters Sports Bar and Grill was packed with fans glued to their phones and the screens. As it came down to the final moments, some wondered what would happen if Langford decided against going to IU.
"I would say this bar will probably clear out real quick," Hoopsters owner Phillip Caldwell said. "And there will be a lot of heartbroken people."
Langford kept the drama going until he reached for an IU hat and placed it on his head. Fans described the thrill as similar to a game-winning buzzer-beater.
Before the big reveal, Langford's coach had a big announcement of his own -- the school retired Langford's number 1 jersey.
Langford will play for second-year coach Archie Miller at IU, with a team coming off a 16-15 season (9-9 Big Ten) in which the Hoosiers finished seventh in their conference.
MORE FROM WAVE3.COM
+ Southern Indiana waits on Romeo Langford's college decision
+ Where will Romeo go?
+ Romeo Langford helps send off New Washington fifth grader to hoop shoot finals
Kansas and Vanderbilt were his other two finalists before his announcement. His "short list" as a sophomore included Kentucky, Louisville, Duke and North Carolina.
Langford set many records at New Albany, and became the fourth all-time leading scorer in Indiana boys basketball history. As a sophomore, he led the Bulldogs to their first state title since 1973.
During that state title run, Langford proved to surpass the hype. He scored 46 points and grabbed nine rebounds in a semistate win over Southport. He then tallied 28 points in the Bulldogs' 62-59 thriller in the state final in front of dozens of major college coaches.
Two years later, he would lead the Bulldogs back to semistate, where New Albany lost on a heartbreaking buzzer-beater that ended his high school career.
Langford scored 19 points, had six rebounds and three assists in the McDonald's all American Game. He was named to the Indiana All-State boys team.
In each of Langford's four seasons, New Albany made it to state regional. The Bulldogs defeated arch-rival Floyd Central in sectional all four years. Langford finished his high school career with 3,002 points, 132 shy of the all-time Indiana record.
Copyright 2018 WAVE 3 News. All rights reserved