GRAPHIC: Cellphone video shows mother, son brutally beaten at Louisville park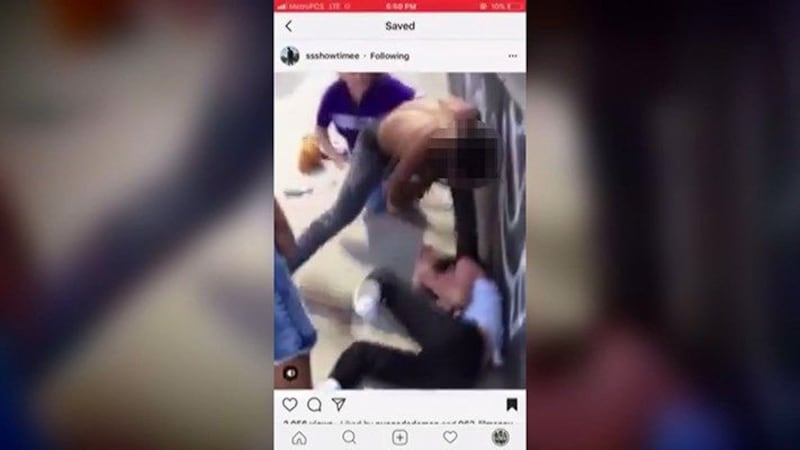 Published: May. 24, 2018 at 3:34 AM EDT
|
Updated: May. 24, 2018 at 9:56 AM EDT
LOUISVILLE, KY (WAVE) - A disturbing and violent cellphone video shows a mother and her son being beaten up at a public park.
The mother, who does not want to be identified, said the altercation took place Monday evening at the Louisville public skate park on Franklin Street. She said it began when she witnessed a young man climb on top of her parked car and bash the roof in. She and her son had been at the park for about an hour and were planning to leave at the time.
"I didn't know what to think," the mother said. "I thought 'is this really happening?' And as soon as I said that, I grabbed my phone and called 911."
MORE ON WAVE3.COM
+ LMPD investigating shooting in Okolona
+ New information revealed in alleged LMDC inmate beat down
+ Suspect in shootings charged with multiple wanton endangerment charges
In the video, it appears the mother and her son were punched, knocked down and hit in the face and head by several young men.
The mother described the incident as unprovoked and unexpected.
"And I told him, I warned him. I said 'don't touch my son. Don't touch him,' and he did it anyway," the mother said. "He started attacking him so I started hitting on him. Next thing I knew, I don't know how many got on me."
The mother suffered bruises and a black eye. Her son was treated and released for bruises to his face.
Wednesday night, LMPD spokesman Dwight Mitchell said there had been no arrests.
Copyright 2018 WAVE 3 News. All rights reserved.