Fort Knox soldier describes saving semi truck driver's life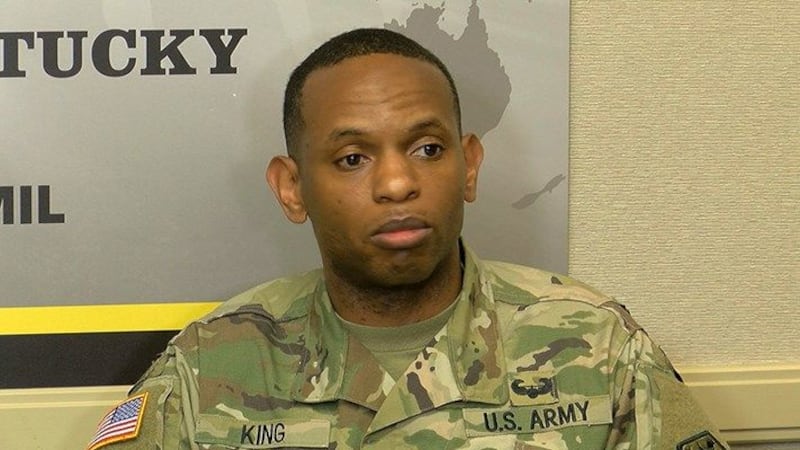 Updated: May. 30, 2018 at 11:27 PM EDT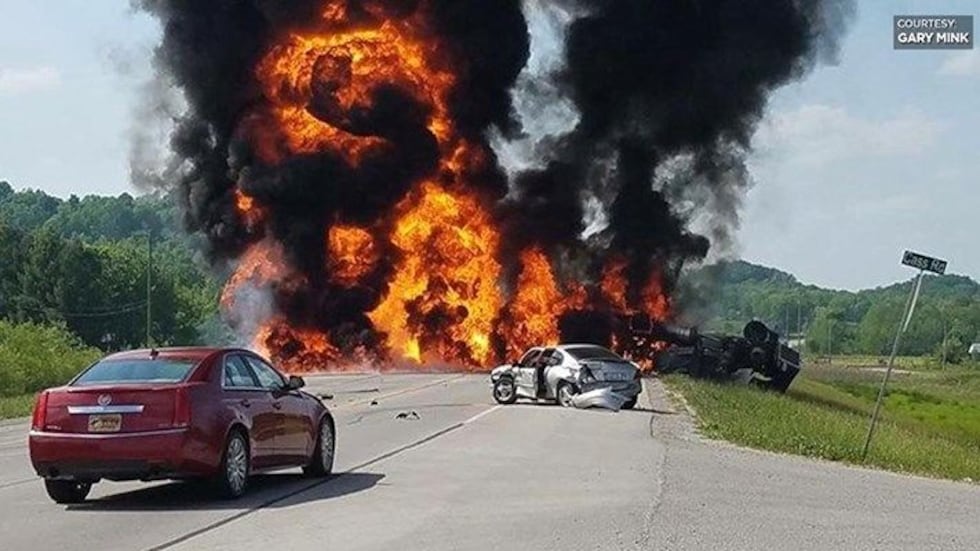 FORT KNOX, KY (WAVE) - Many people saw the fireball on the news. But only those on the scene saw the heroics of a Army Sergeant on his way home to Radcliff, Kentucky on Mother's Day.
A car swerved in front of a semi, causing an accident. Moments later that fuel tanker rolled over and burst into flames in Rockcastle County. That's when Sergeant First Class Mario King jumped into action.
King grew up in South Carolina as the son of a firefighter. He also had military hospital training. His instincts took over. King was going home with his wife and they were just a couple of cars behind the accident. King said he didn't even think about what to do. He ran to pull the driver from the cab along with two others.
"Being 170 pounds soaking wet, I didn't think I had enough strength to pull him out either and I grabbed him," King said. "I thought I'm just going to drag this guy as far as I can."
MORE ON WAVE3.COM
+ Man who nearly lost legs says thank you to the EMTs who helped him
+ Pass the Cash: Man needs prayers and a kidney donation
+ Thousands of soldiers, family members gather for Fort Knox Centennial photo
King got him out and pulled that driver about 100 feet from the accident's inferno.
Back at the King's vehicle, Mario's wife Adriane was screaming. Mario could hear her.
"We were screaming at the top of our lungs, like 'move him away from the truck'," Adriane said. "'Get him out, y'all get him out away from the truck as soon as possible,' because it was so many flames. So much smoke, you just never knew what was going to happen at that moment."
Fort Knox made the King's available for interviews a couple of weeks after the accident because of so many requests to talk to them. Understandably why. When it came to risking his life in the middle of a huge fuel fire, King said he just did what he was taught.
"Never leave a fallen comrade and by the word 'comrade,' that doesn't mean brother or sister or somebody you know or work with on a daily basis. That's a stranger, anybody on the street," King explained.
Someday the King's may be able to meet that driver, who is expected to recover from his injuries. For now, Mario said he would just like to tell him one thing:
"I just want to say I'm grateful I was able to be there to help," King said.
King was there for the man just like he was for our country in Iraq.
Copyright 2018 WAVE 3 News. All rights reserved.