Local farmers ate breakfast to celebrate start of KY State Fair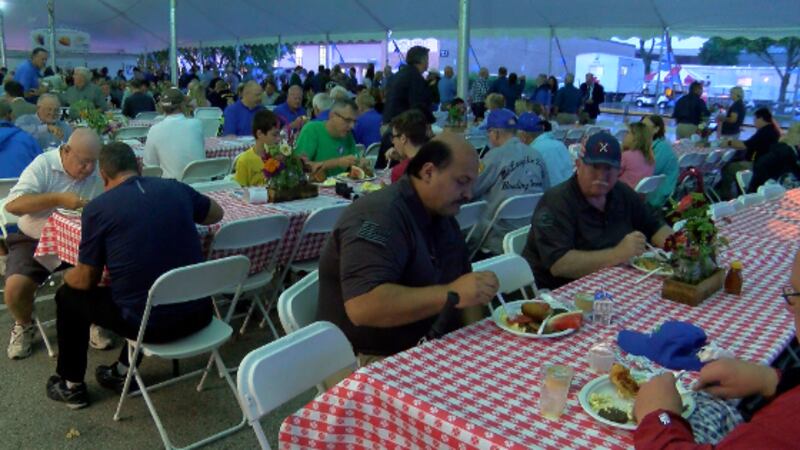 Updated: Aug. 16, 2018 at 1:57 PM EDT
LOUISVILLE, KY (WAVE) - Before the ribbon cutting ceremony, while the fairgrounds were still quiet, local farmers got together at the Commodity Breakfast.
"The State Fair here is founded on agriculture and this is a way for us to showcase agriculture with the community, and what better way to kick off the Kentucky State Fair but by celebrating the Kentucky agriculture," Kiah Twissleman, with the Kentucky Beef Council, said.
Commodity groups from all over the state served everything from this year's featured commodity, steak, to produce and even goat bacon.
With everyone's mind on cotton candy and carnival rides, farmers want to remind everyone what the fair was originally about.
"There's a lot of misconceptions about where food comes from and this is a perfect opportunity for us to educate people about how food travels from farm gate to the dinner plate," Kentucky Agricultural Commissioner Ryan Quarels said.
MORE FROM WAVE3.COM
+ Pedestrian dies after being hit near UPS
+ 'Queen of Soul' Aretha Franklin dies
+ Colorado man arrested after pregnant wife, 2 children vanish
Bardstown cattle farmer, Andy Bishop, thinks it's important the public knows what happens before that steak hits your plate.
"Especially those removed from the farm," Bishop said. "To learn where their food comes from and the amount of work the farmers goes through to make sure that they have a safe reliable source of food."
Bishop said he will not only be at the new AgLand exhibit to help teach fairgoers what the industry is like but also showing cattle with his daughter Clara.
"My favorite part about the fair is watching the beef show and seeing how all these people prepare their cattle and how maybe one day I can prepare my cattle the same way," Clara said.
She's only 9, but already has a few ribbons under her belt and plans to win more this year.
Copyright 2018 WAVE 3 News. All rights reserved.