Hardin County Schools awarded with $10,000 Kentucky Fried Wishes grant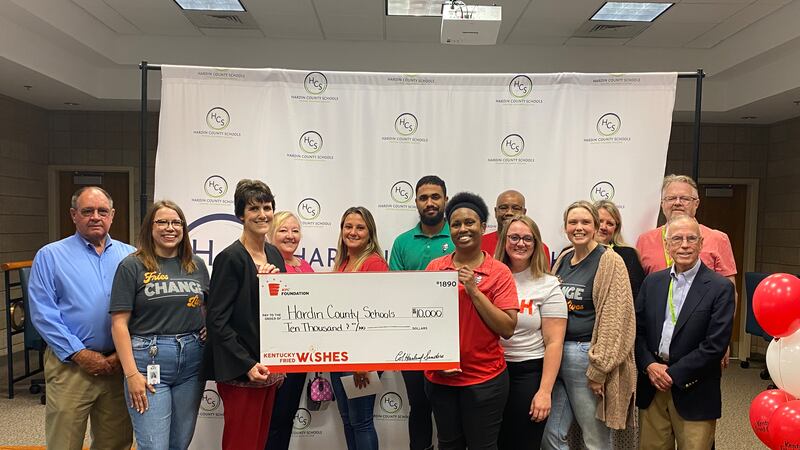 Published: Oct. 27, 2023 at 1:40 PM EDT
ELIZABETHTOWN, Ky. (WAVE) - Hardin County Schools received a $10,000 grant from the KFC Foundation to buy equipment that will enhance the district's instructional technology.
The grant will go toward document cameras for Heartland Elementary School, James T. Alton Middle School, North Middle School, Vine Grove Elementary School and Meadow View Elementary School, the release said.
"We are very grateful to the KFC Foundation for this generous Kentucky Fried Wishes grant," HCS Superintendent Teresa Morgan said. "It will help our students do even more amazing things in the classroom and implement instructional technology strategies."
Kentucky Fried Wishes invites nonprofit organizations to apply for a grant to fund a project on their wish list. This year, the KFC Foundation is funding $1 million in Kentucky Fried Wishes to 100 non-profit organizations across the country, the release said.
"Due to the generosity of KFC customers who chose to Round Up their orders to the KFC Foundation, we were able to double the amount of grants awarded to community-based nonprofits through Kentucky Fried Wishes this year," KFC Foundation Executive Director Emma Horn said. "This is our biggest award year to date and we're proud to support these non-profits who are doing meaningful work."
Copyright 2023 WAVE. All rights reserved.